Assisted Living at Chesterfield
The Right Assistance to Keep You Independent
Our New Building Opened in September 2020!
We tailor your needs at our Assisted Living and Memory Care program at Friendship Village Chesterfield. You'll receive just the right amount of assistance with daily activities, so you can remain as independent and active as you want to be. Our mission is to enhance your independence, protect your privacy and open the door to endless possibilities. To keep you well, we provide excellent health services and many social events and community activities.
Here you'll learn about our services, amenities and various floor plans, as well meet the team and get a feel for life at Friendship Village.
Assisted Living Services, Amenities & Floor Plans
Read about services and amenities, thoughtfully designed with you in mind.
Inclusive pricing
Three delicious, well-balanced meals daily in our spacious dining room, with a wide array of menu choices
Medication management
Showering and dressing assistance
24-hour licensed nurse
All utilities (gas, water, sewer, electricity)
Local telephone service
Weekly housekeeping
Flat linen laundry service

Scheduled transportation to medical appointments
Cable TV (over 80 channels)
Library and high-speed internet access
Bus outings to local favorites
Weekly Bible studies and Sunday services to nurture spiritual wellness
Specialized memory care program
Private dining room available for family celebrations
Priority access to skilled nursing, if ever needed
Wide array of social and recreational activities
Services provided for an additional fee:
Personal laundry
Beauty and barber
Long-distance telephone
Personal transportation
Meal delivery
Guest meals
Meet the Assisted Living Staff
Ken Klump, Skilled Nursing and Rehabilitation Administrator
Ken Klump
Skilled Nursing and Rehabilitation Administrator
---
Ken's health care career has spanned over 25 years. For the past 14+ years, he has served as an administrator with skilled nursing facilities.
He is a St. Louis native who grew up in Overland, Missouri, where he attended De Smet Jesuit High School. He has made his home in Chesterfield for the past 17 years. He has been married for over 32 years and has two sons and a daughter. In his spare time, Ken coaches baseball for the Chesterfield American Legion team, follows the Cardinals and completes do-it-yourself projects on his home and cars.
He received a bachelor's degree in business management from Southern Illinois University at Carbondale.
Rebekah Manwarring, Director, Memory Care Programs
Rebekah Manwarring
Director, Memory Care Programs
---
Rebekah joined Friendship Village Assisted Living & Memory Care as the Life Enrichment Director in February 2016. She brings over 17 years of experience in the geriatric and recreational therapy industry. Rebekah has a passion for serving seniors and enriching their lives every day!
Rebekah graduated from Southwest Baptist University in Bolivar, MO in 2001 with her Bachelor of Science in Therapeutic Recreation and a minor in Psychology and is also a Certified Therapeutic Recreational Therapist.
Prior to Rebekah bringing her talents to Friendship Village, her career was in the fields of geriatrics and pediatrics. Since joining Friendship Village, Rebekah has strived to increase the quality of life for all assisted living residents. She works hard to cultivate an environment where residents thrive. In 2020 Rebekah was promoted to Director of Memory Care Programs in Assisted Living for both Sunset Hills and Chesterfield campuses. She is very excited to be on the cutting edge of Memory Care! Since being promoted, Rebekah has earned her CMDCP (Certified Montessori Dementia Care Practitioner) which will allows her to be a certified trainer on both Friendship Village campuses. Rebekah is overjoyed to bring this new, proactive approach to Friendship Village with a motto of "Living Life with Purpose Every Day!"
When not at Friendship Village, Rebekah enjoys spending time antiquing, going to flea markets, being outdoors at area parks and creeks, spending time with family, and most of all playing with her children. She also has a love for singing, going to concerts, creating art, and bringing joy to others every day!
Bridget Banks, Assisted Living and Memory Care Assistant Administrator
Bridget Banks
Assisted Living and Memory Care Assistant Administrator
---
Bridget joined Friendship Village Chesterfield in June 2016. She worked as a receptionist and concierge before transitioning to the Facilities Coordinator role in June 2018. During this time, Bridget earned a master's degree in gerontology from the University of Missouri – St. Louis and her administrator's license. In June 2020, she began working as the Assistant Administrator and is excited to continue her passion for serving seniors.
Bridget grew up in St. Louis and always enjoyed spending time with her grandparents. She regularly volunteered in nursing facilities throughout high school and college, where she discovered a strong interest in serving seniors. She attended St. Joseph's Academy high school and graduated with a bachelor's degree in health sciences from Drake University. Outside of Friendship Village, Bridget enjoys golfing, baking, and spending time with her family and dog.
Julianne Tucker, Assisted Living Specialist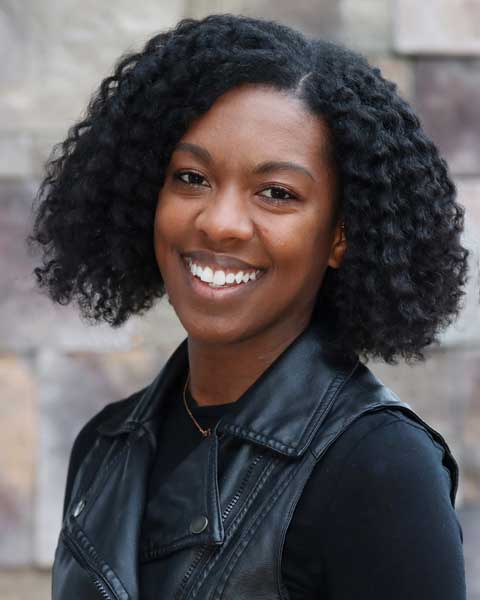 Julianne Tucker
Assisted Living Specialist
---
Julianne Tucker has been with Friendship Village since 2015. She began working as a weekend concierge, then transitioned to move-in concierge. In 2017, she became the Community Life Services Coordinator at Friendship Village Chesterfield. In November 2020 Julianne became the Assisted Living Specialist of Chesterfield.
Julianne is a Saint Louis native and loves hiking local trails with her 4-year-old son. She holds a bachelor's degree in psychology from Lindenwood University in Saint Charles Missouri. For a few years, Julianne co-lead a Girl Scout troop of 35 girls ages 7-12 years old and even became "camp certified."
Julianne is looking forward to her future with Friendship Village.
Angus, Pet Therapy Specialist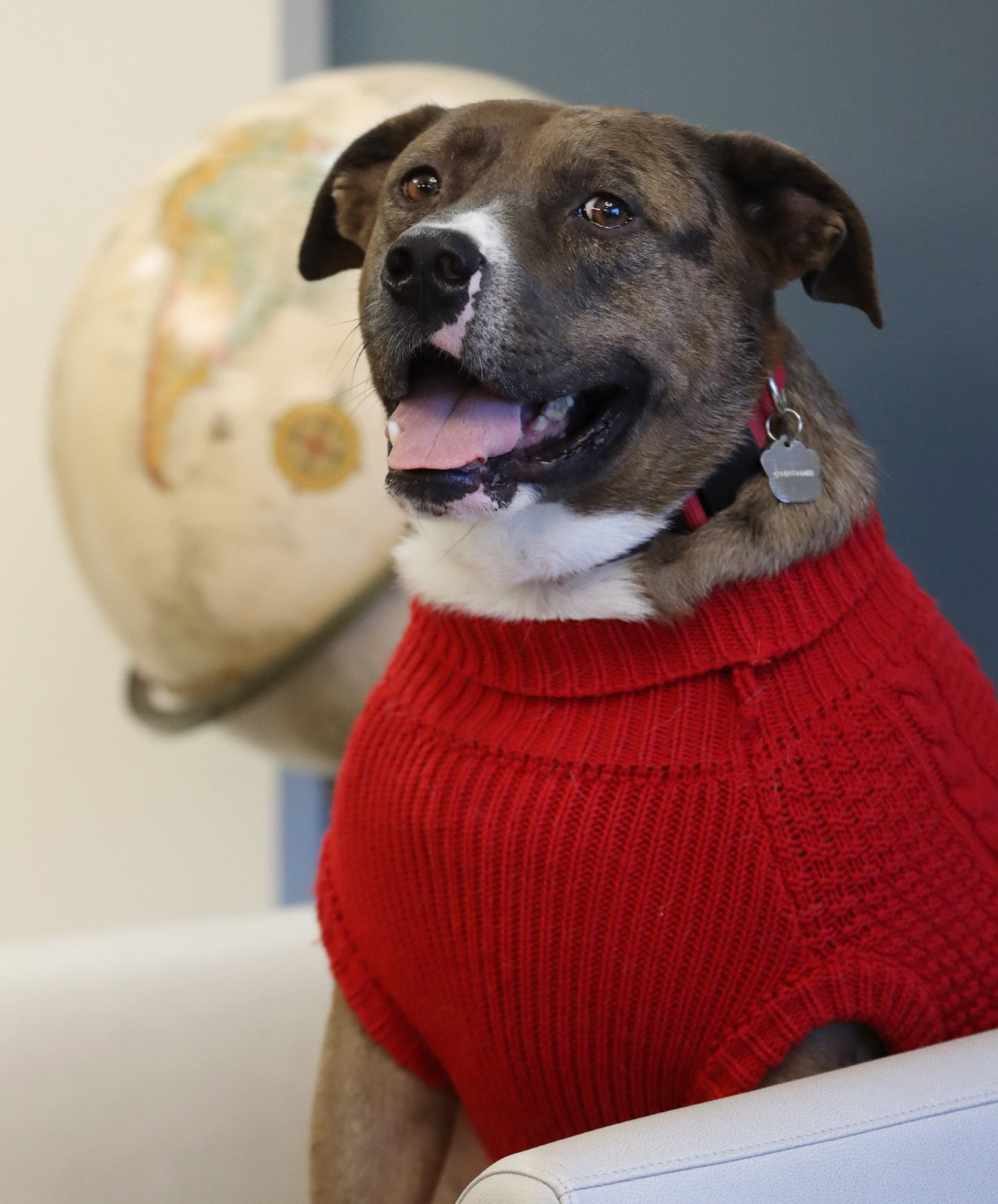 Angus
Pet Therapy Specialist
---
Angus works as a Pet Therapy dog around the Assisted Living and Memory Care neighborhoods. He is owned by Assisted Living Specialist Julianne Tucker and he regularly makes the rounds to brighten everyone's day, get head scratches and belly rubs. He is a very VERY good boy!
Come discover life at Friendship Village Assisted Living and Memory Care!